Welcome!
Thanks for visiting Bach Promotional Products. Please don't hesitate to call or email if you have any questions or need a quote!
Featured Item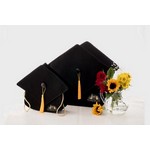 The Grad Bag Deluxe - 13"x 15"
Luxury Felt Graduation Bag. The Grad bag deluxe is a magnificent bag option for a school function event, college party celebration and educational fundraiser projects! It is the real bag with the real...